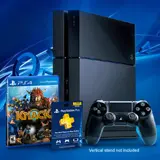 After last year's free PS Vita giveaway that Sony and Taco Bell partnered on was a success, the two corporations have teamed up once again for a big promotion, this time to award a free PlayStation 4 every 15 minutes before the console comes out on November 15.
Called "Play the Future First" promotion, prospective entrants will need to buy a Taco Bell $5 Buck Box or Big Box , which includes a Cheesy Gordita Crunch or Crunchwrap Supreme, a Burrito Supreme, a Crunchy Taco and a medium fountain drink, and then text or enter the unique code online that comes with it for a chance to win. Sony and Taco Bell offer two additional ways to enter without a purchase including writing in for a code and requesting one online. Learn more about those methods at the official contest page.
Play the Future First will begin in the U.S. this Thursday, September 26 and run straight through November 10 with a prize being award every 15 minutes. The prize includes a free PS4 console, the PS4 launch title Knack, and a year's subscription to PlayStation Plus, a requirement to play multiplayer games online.
You'll know you have the right Buck Box or Big Box for the promotion as it will be heavily branded with PS4 imagery. Good luck to all who go after a free PlayStation 4.