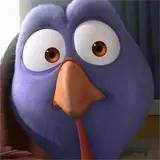 Updated: Fox Home Entertainment has officially announced the Blu-ray and DVD release of Free Bird and in doing so confirmed the retailer leaked February 4 release date. The finalized cover art, disc specs and bonus features have been added below.
Original article (January 6): Online retailer Amazon.com is showing a February 4 release date for Relativity's animated Thanksgiving-themed film Free Birds on Blu-ray and DVD.
Publisher Twentieth Century Fox has yet to formally announce a Free Birds release date so the February 4 date should be considered rumor until the official announcement is made. Given the fact that Free Birds was released theatrically on November 1 and February 4 would be the first eligible Tuesday for release, the date is likely accurate and will be verified by Fox in the next one to two weeks.
Free Birds stars the voices of Owen Wilson, Woody Harrelson and Amy Poehler. It almost made back its $55 million production budget at the box office with $54.4 million in ticket sales and should perform admirably on home video despite the holiday it's attached to having come and gone.
Free Birds on Blu-ray will be presented in 1.85:1 1080p video and 5.1 DTS-HD Master Audio. Bonus features include the following:
Birds Flipping History
Animating Free Birds: The Main Course
Winging It: Animators in Action
Talking Turkey with Composer Dominic Lewis
Shake a Tail Feather
Theatrical Trailer
Click here to pre-order Free Birds on Blu-ray for a discounted price at Amazon.com.