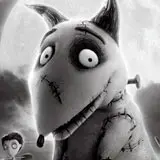 Tim Burton's latest stop-motion animated flick Frankenweenie starring the voice talent of Winona Ryder, Catherine O'Hara, Martin Short, Martin Landau and Charlie Tahan will be trotting its way onto Blu-ray 3D, Blu-ray and DVD on January 8, 2013.
There will be two different Blu-ray skus of Frankenweenie to choose from. The first will span four discs and include the film on Blu-ray 3D, Blu-ray, DVD and a digital copy. The second sku is the same as the first except it will not include the Blu-ray 3D disc or the digital copy.
Disney will present Frankenweenie on Blu-ray in 7.1 DTS-HD Master Audio and 1.85:1 1080p video.
Frankenweenie Blu-ray exclusive bonus features will include the animated short Captain Sparky vs The Flying Saucers and the behind-the-scenes feature 'Miniatures in Motion: Bringing Frankenweenie to Life,' the original live-action Frankenweenie short. Shared with DVD are the 'Frankenweenie Touring Exhibit' featurette and Plain White T's 'Pet Sematary' music video.
Check out the Frankenweenie Blu-ray 3D and Blu-ray cover art below.
Click here to pre-order Frankenweenie on Blu-ray 3D combo for $34.99 at Amazon.com, 30% off the $49.99 list price.