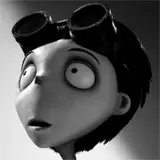 Tim Burton's Frankenweenie is not set to haunt home video until early next year, but that does not mean you can't lock in a killer deal for the critically acclaimed stop-motion animated film.
Online retailer Amazon.com has begun taking pre-orders for the four-disc Blu-ray 3D combo pack of Frankenweenie for $34.99. That works out to about 30 percent off the $49.99 list price and is right on par with where Amazon usually begins pre-ordering titles.
What makes the Frankenweenie Blu-ray 3D pre-order special is a unique $8 off coupon that will be immediately applied to your order. Instead of paying $34.99 for the Blu-ray 3D combo pack of Frankenweenie, you're only paying $26.99. That's probably a buck or two less than what the non-3D version will end up selling for.
Click here to pre-order Frankenweenie on Blu-ray 3D with the $8 off coupon at Amazon.com.
The Frankenweenie Blu-ray 3D, Blu-ray and DVD release date is expected to fall into January 2013.