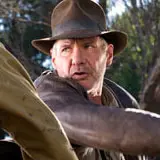 I got so used to seeing producer Frank Marshall tweeting about The Last Airbender that I had to do a triple take today when he addressed not one, but two hot topics within hours of each another.
First up is the Indiana Jones 5 rumor that popped up yesterday claiming Steven Spielberg was underway on a script for a story set around the Bermuda Triangle with Harrison Ford and Shia LaBeouf returning . I called BS and turns out that assessment was on the money. "The rumor about INDY 5 is completely false," tweeted Marshall. "Nothing has changed, we are not shooting next year and still in the research phase…" And there's the swift death blow to that one.
Not to go to bed the bearer of all bad news today, Marshall updated the status of a new Jason Bourne film with some hot news. "Tony Gilroy, the keeper of the Bourne flame, is back with us to write the treatment for #4, THE BOURNE LEGACY…" Gilroy penned the screenplays for all three previous Bourne films. He also wrote Michael Clayton and State of Play.
The Bourne Legacy, which bears the name of the fourth Bourne novel, is a sequel to The Bourne Ultimatum and not a reboot as was once thought to be the next step for the franchise. Per THR, both previous screenplays for a fourth Bourne film have been canned and Gilroy will be working from scratch with a targeted 2012 release date. That ought to flush the bad taste from Indiana Jones 5 out of your mouth.
So what's the catch, right? Matt Damon has publicly stated that he has zero interest in playing Jason Bourne again unless director Paul Greengrass takes the reigns. Greengrass, meanwhile, has stated he's done with Bourne films and wants to move on. Universal is moving forward regardless so either Greengrass gives in and both return, Damon gives in and a new director is hired, or both stay away and Bourne is recast or the role changes to another character. Don't expect a decision to be made until all parties involved get a good look at a treatment or screenplay draft.