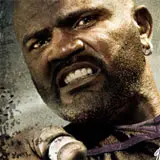 What happens when a comedian gets their hands on a telestrator during a football game? Hilarity ensues, of course.
Midway had no qualms turning over the telestrator in Blitz: The League II to comedian Frank Caliendo as a color commentator who also plays a prison warden in the game. Comedian Jay Mohr is also on board to lend his voice.
You can check out Frank taking his turn at the telestrator in the new video clip below.
Blitz: The League II will arrive in stores next week on Xbox 360 and Playstation 3.