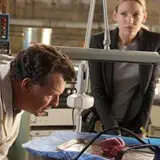 Fox has ordered an additional nine episodes of the new sci-fi tilted show Fringe, starring Anna Torv, Joshua Jackson, Lance Reddick, Kirk Acevedo, Blair Brown, Jasika Nicole with Mark Valley and John Noble, to bring its total to 22 episodes, or a full season.
Kevin Reilly, President, Entertainment for Fox Broadcasting Company, made the announcement this morning and added the following comments.
"We're having a blast working on this show with this great team of producers and amazing cast. The series has really taken off creatively, and it's exciting to see that the audience is responding. We believe this is the first full season of many years to come."
Fringe has consistently won its time slot with adults 18-49 and actually increased viewers in its last episode +5% (vs. 4.1/10), overall growing +6% in total viewers (10.0 vs. 9.4 million).
Next up for Fringe is "a high-voltage episode as the unlikely trio investigates the cause of a fatal elevator accident that had some very unusual circumstances. They discover a connection to a dangerous man whose developing abilities point to a bigger threat. Meanwhile, Olivia has a highly charged encounter of her own when she is rocked by someone from her past, and Dr. Bishop turns to a methodology Peter thinks is for the birds to help break the case."
Join the extensive discussion on Fringe in the HDR Forums.