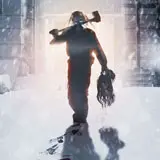 More unsuspecting cannibal fodder will take a left when they should have taken a right with the release of Wrong Turn 4: Bloody Beginnings on Blu-ray and DVD on October 25, 2011.
The direct-to-video prequel is directed by Declan O'Brien and takes the horror franchise back in time. The official synopsis reads, "In 1974, Glenville Sanatorium was the site of a brutal and horrific crime, as three hideously deformed cannibals went on a merciless killing spree. Now, years later, a group of college kids having the time of their life make a fateful wrong turn, giving this family of blood-thirsty cannibals new prey to stalk. The abandoned medical wards within the sanatorium soon become killing fields as the panicked victims come face to face with a chilling choice: fight back or die."
The Wrong Turn 4 Blu-ray will include:
Feature Commentary from Director Declan O'Brien
Director's Die-aries
Making Another Wrong Turn
Lifestyles of the Sick and Infamous
Music Video Featuring The Black Out City Kids
Check out the Wrong Turn 4 trailer and Blu-ray cover art below.
Click here to pre-order Wrong Turn 4: Bloody Beginnings on Blu-ray at Amazon.com.