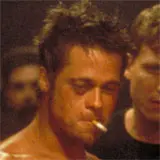 Fox Home Entertainment has passed along the first confirmed bonus features for the 10th anniversary release of David Fincher's Fight Club starring Edward Norton and Brad Pitt on Blu-ray Disc that hits stores on November 17.
Fight Club will make its high-def debut in 2.4:1 1080p video and 5.1 DTS-HD Master Audio.
A trio of new bonus features have been combined with the already stacked selection from the previously released DVD. The complete list is as follows:
NEW: A Hit In The Ear: Ren Klyce and the Sound Design of Fight Club

Welcome To Fight Club
Angel Faces Beating
The Crash
Tyler's Goodbye

NEW: Flogging Fight Club
NEW: Insomniac Mode: I Am Jack's Search Index, Commentary Log, Topic Search
Behind the Scenes Vignettes: Production, Visual Effects, On Location
Edward Norton Interview
Commentary by David Fincher
Commentary by David Fincher, Brad Pitt, Edward Norton and Helena Bonham Carter
Commentary by Chuck Palahniuk and Jim Uhls
Commentary by Alex McDowell, Jeff Cronenweth, Michael Kaplan and Kevin Haug
Seven Deleted Scenes and Alternate Scenes
Trailer Farm – Theatrical Teaser, Theatrical Trailer, The Eight Rules of Fight Club
12 TV Spots
Public Service Announcements
Music Video
Five Internet Spots
Promotional Gallery
Art Gallery
While we're waiting for Fox to release the final Fight Club Blu-ray cover art, you can click here to pre-order Fight Club on Blu-ray for $22.99 at Amazon.com.