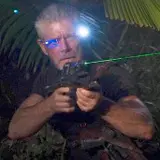 One of the biggest shows coming to network television this fall is Fox's Terra Nova, the story of a family who escapes a dieing Earth in the future to start a new colony and hope for mankind in the past. It's like Avatar complete with Stephen Lang playing a gruff leader, only the primitive primitive planet is our own and not an alien world.
As part of their upfront presentation today, Fox unveiled the first full-length Terra Nova trailer along with a handful of images and the extended plot synopsis. The show looks like it will first and foremost be a family drama, blended together with militaristic elements and the always looming threat of prehistoric dinosaurs on the prowl. Expect some hidden agendas thrown in for a twist or two.
Here's the official Terra Nova synopsis, followed by the new images.
From executive producers Steven Spielberg, Peter Chernin, Rene Echevarria (Castle, The 4400) and Brannon Braga (24) comes an epic family adventure 85 million years in the making. TERRA NOVA follows an ordinary family on an incredible journey back in time to prehistoric Earth as a small part of a daring experiment to save the human race. In the year 2149, the world is dying. The planet is overdeveloped and overcrowded, with the majority of plant and animal life extinct. The future of mankind is in jeopardy, and its only hope for survival is in the distant past. When scientists at the FERMI Particle Accelerator unexpectedly discovered a fracture in time that made it possible to construct a portal into primeval history, the bold notion was born to resettle humanity in the past – a second chance to rebuild civilization and get it right this time. The series centers on the Shannon family as they join the Tenth Pilgrimage of settlers to Terra Nova, the first colony established in this beautiful yet foreboding land. JIM SHANNON (Jason O'Mara, Life on Mars), a devoted father with a checkered past, guides his family through this new world of limitless beauty, mystery and terror. Jim's wife, ELISABETH (Shelley Conn, Mistresses), is a trauma surgeon and the newest addition to Terra Nova's medical team. JOSH (Landon Liboiron, Degrassi: The Next Generation) is their 17-year-old son who is angry to leave life as he knows it behind; upon arriving at the settlement, he finds himself instantly drawn to the beautiful and rule-breaking SKYE (Allison Miller, Kings). MADDY (Naomi Scott, Life Bites), Josh's endearingly awkward 15-year-old sister, hopes Terra Nova will give her a chance to reinvent herself. Although Elisabeth's medical training secured the family a spot on the pilgrimage, a secret involving their five-year-old daughter, ZOE (newcomer Alana Mansour), soon endangers their place in this utopia. Upon the Shannons' arrival, they are introduced to COMMANDER NATHANIEL TAYLOR (Stephen Lang, Avatar), the charismatic and heroic first pioneer and leader of the settlement. Taylor warns the travelers that while Terra Nova is a place of new opportunities and fresh beginnings, all is not as idyllic as it initially appears.

Along with blue skies, towering waterfalls and lush vegetation, the surrounding terrain is teeming with danger – and not just of the man-eating dinosaur variety. There is also a splinter colony of renegades led by the battle-hardened MIRA (Christine Adams, TRON: Legacy), who is vehemently opposed to Taylor and his leadership. Even more threatening than what lies outside the protective walls of the colony is the chilling possibility that something sinister is happening inside Terra Nova. The Shannons will come to suspect that not everyone on this mission has the same idea of how to best save mankind; in fact, there may be forces intent on destroying this new world before it even begins.