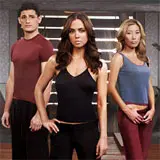 Joss Whedon's Dollhouse has struggled during its second week in the ill-fated Friday time slot at Fox. A pair of Battlestar Galactica cameos did little to lift ratings and a month long hiatus during November signaled impending doom.
Just two weeks into the hiatus, Fox has officially confirmed the second season of Dollhouse will be its last. No more Eliza Dushku as Echo parading around in skimpy outfits or Tahmoh Penikett as Paul Ballard fantasizing about her.
Staying true to comments made when the show went on hiatus, Fox confirms all 13 episodes will air to give Whedon the opportunity to end the show "in a significant way" per a Fox statement. Dollhouse is slated to return to Fox on December 4 and wrap up its run with Summer Glau joining the cast.
Meanwhile over at ABC, the Kelsey Grammer comedy Hank has been shown the door following a wave of dismal ratings and poor reviews. There are five episodes that have yet to air with no word from ABC whether they will ever see the light of day.