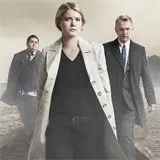 Fox has released its full 2012 mid-season schedule and in doing so, finally confirmed the premiere dates for the highly anticipated shows Alcatraz and Touch.
The J.J. Abrams-executive produced Alcatraz is set to premiere on Monday, January 16 with the full two-hour pilot episode. Starring Jonny Coyne, Jorge Garcia, Sarah Jones and Jeffrey Pierce, Alcatraz is a mystery in which inmates who vanished from the famous prison decades ago begin showing up one-by-one in present day having not aged. It will air on Monday's at 9pm EST/PST, replacing Terra Nova which wraps this month and bumping House up an hour.
The return of Kiefer Sutherland in the new series Touch will take over for Alcatraz on March 19. A special early airing of the Touch pilot will come much earlier on January 25.
After Bones goes on hiatus to account for the arrival of Emily Deschanel's baby during production, spin-off The Finder will take its place on Thursday evenings beginning January 12. Bones will return in the spring once The Finder wraps its first season.
A cartoon version of Napoleon Dynamite with the original film's cast providing the voices will premiere on Sunday, January 15 at 8:30pm in the slot currently occupied by Allen Gregory. Bob's Burgers will take a break, but return to the air on March 11.
Christian Slater's resurrected comedy Breaking In returns from the dead on March 6 in Glee's spot during that show's hiatus. Fans will need to turn out in force for Breaking In to break into the 2012-13 lineup.
Noticeably absent from Fox's 2012 mid-season slate is I Hate My Teenage Daughter. Though it just premiered last night, the comedy starring Jaime Pressly wasn't deemed good enough to continue with new episodes in the new year.
Last but never least in the ratings, American Idol returns on January 18 in its familiar Wednesday and Thursday evening slots, currently occupied by The X Factor. An extra episode of Idol will air on Sunday, January 22.