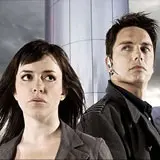 Starz has acquired the U.S. television rights to a new fourth season of Torchwood that is scheduled to begin airing next summer. The UK rights will be retained by BBC One.
Series showrunner Russell T. Davies is returning along with franchise favorites and lone survivors of Torchwood: Children of Earth, John Barrowman and Eve Myles as Captain Jack Harkness and Gwen Cooper, respectively. They will be joined by new castmembers in stories Starz promises will take on a more "international scope" than the series' prior offerings.
This is great news for Starz who continues to build up their stable of exclusive programming. Torchwood will join Spartacus: Blood and Sand, Crash and Party Down already airing, as well as Camelot which is expected to premiere next spring.
The difficulty for Torchwood will be whether it can find an audience on Starz. Whereas the previous three seasons ran on widely available BBC America, Starz is a paid subscription channel with a far more narrow reach. It is Starz' hope that Torchwood faithful will subscribe to the channel just to keep up with the latest adventures of Captain Jack.