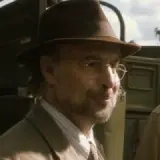 Late last night MTV published what turned out to be the fourth clip from Marvel and Paramount's Captain America: The First Avenger that capped a star-spangled day for the superhero.
In the latest clip, Colonel Chester Phillips (Tommy Lee Jones) points out that Steve Rogers (Chris Evans) is too much of a wimp for the Super Soldier serum and that another more physically fit soldier would make a better candidate. As a consolation, Phillips says, "…maybe he'd be useful to you, like a gerbil."
Phillips has another more phsically fit soldier in mind for the program. To prove his point, he tosses what the recruits think is a live grenade on the ground. All put Steve Rogers dive out of the way. Rogers, in turn, dives onto the grenade, much to the delight of scientist Abraham Erksine (Stanley Tucci) who wants Rogers for the program.
In case you missed them, the first three Captain America: The First Avenger clips can be viewed here. In them you'll find Steve Rogers picking out his new shield, Steve Rogers being injected with the serum, and Captain America using his shield in combat against Hydra soldiers.
Captain America: The First Avenger swings into theaters a week from today in 2D, 3D and IMAX 3D.