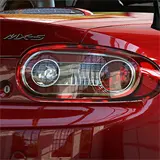 Microsoft's Forza Motorsport 5 for Xbox One is ultimately about the cars, and today the Forza Motorsport 5 car list grew by 44 strong with a bevy of hot new rides revealed that you'll be able to take the wheel of in less than a month.
There's a little something for everyone in this new batch of cars including old school rides like the 1964 Ferrari 250 GTO and 1963 Volkswagen Beetle, to modern marvels like the 2012 Land Rover Range Rover Supercharged and 2008 BMW M3.
One car sure to turn heads is the unusual and absolutely street legal 2013 Ariel Atom 500 V8. It houses a V8 engine and can power up from 0-60 mpg in only 2.3 seconds. Here are some more impressive features this ride, pictured below, includes: "John Hartley-designed 500 horsepower Ariel 3.0 liter, weighing in at 198 pounds; a Sadev six-speed sequential transmission; and Dymag magnesium wheels. When the wheels are combined with its exo-skeleton chassis with carbon fiber body panels and foils, the Atom weighs in at a phenomenal 1,213 pounds."
Here's the full list of newly announced Forza Motorsport 5 cars:
1960 Chevrolet Corvette
1963 Volkswagen Beetle
1964 Ferrari 250 GTO
1966 Ford GT40 MkII
1967 Chevrolet Corvette Stingray 427
1969 Pontiac GTO Judge
1969 Pontiac Firebird Trans Am
1970 Nissan Datsun 510
1970 Chevrolet Camaro Z28
1971 Nissan Skyline 2000GT-R
1973 BMW 2002 Turbo
1973 Pontiac Firebird Trans Am SD-455
1984 Volkswagen Rabbit GTI
1987 Ferrari F40
1990 Chevrolet Camaro IROC-Z
1991 Ferrari 512 TR
1994 Toyota Celica GT-Four ST205
1995 Volkswagen Corrado VR6
1995 Ferrari F50
1995 RUF CTR2
1997 Nissan Skyline GT-R V-Spec
1997 BMW M3
2002 Chevrolet Corvette Z06
2004 Honda Civic Type-R
2005 Mercedes-Benz SLR
2005 BMW M3
2005 Honda NSX-R
2005 Subaru Impreza WRX STI
2008 BMW M3
2008 Dodge Viper SRT10 ACR
2009 Peugeot #9 Peugeot Sport Total 908
2009 Ford Focus RS
2009 Honda S2000 CR
2010 Abarth 500 esseesse
2010 Aston Martin One-77
2011 Chevrolet #4 Corvette Racing ZR1
2011 Holden HSV GTS
2011 Infiniti IPL G Coupe
2012 Land Rover Range Rover Supercharged
2013 Audi RS7
2013 Ariel Atom 500 V8
2013 Mazda MX-5 Miata
2014 Ford Fiesta ST
A detailed breakdown of several of these Forza Motorsport cars, as well as the full Forza Motorsport 5 car list, is available at the official Forza Motorsport website.