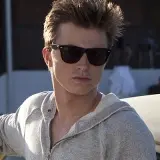 Watching the new Footloose remake trailer released via MTV feels like another installment in the Step Up films set in small town USA. Only in Step Up where the dancers have been training their whole lives to pull off moves, the school kids in Footloose start dancing professionally for apparently no rhyme or reason.
To the credit of the filmmakers, the new Footloose looks about as good as a remake of the 1980s dance classic starring Kevin Bacon could. It's been modernized and is clearly more edgy than its inspiration, yet includes many nods to the original such as the old Volkswagon Beetle and angry dance. It is what it is, even if the cinematic landscape is already overcrowded with dance films.
Footloose is directed by Craig Brewer and stars Kenny Wormald, Julianne Hough and Dennis Quaid. The fight to kill the dance ban begins on October 14.