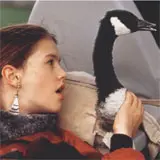 Sony Pictures Home Entertainment has announced the catalog film Fly Away Home starring a young Anna Paquin, Jeff Daniels and Dana Delaney has been cleared for a Blu-ray bow on April 7.
Fly Away Home is the story of a lonely young girl (Paquin) and her estranged father (Daniels) who befriend a flock of geese and teach them to fly.
The film will be presented in 1.85:1 1080p video and 5.1 Dolby TrueHD audio.
A Blu-ray exclusive featurette headlines a decent selection of bonus features as detailed below.
Director and Cinematographer's Commentary
HBO Special Leading the Flock
Operation Migration: Birds of a Feather (Blu-ray exclusive)
Ultra Geese
Theatrical Trailers
Fly Away Home has been given a retail price of $28.99 but is now available for pre-order at Amazon.com for $20.49. Click here to secure your copy.