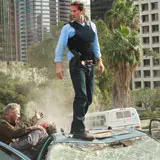 Flash Forward is moving forward at ABC with a 13-episode pick up order for this fall.
Per The Hollywood Reporter, ABC's big wigs recently held the pilot's first screening to an overwhelmingly positive response. The first season order came mere hours after the screening wrapped.
Flash Forward, based on Robert J. Sawyer's novel, begins with an event in which every person on the planet blacks out for 2 minutes 17 seconds only to awake with mysterious visions set six months into the future.
Joseph Fiennes stars along with Sonya Walger, John Cho, Jack Davenport, Brian F. O'Byrne, Courtney B. Vance, Christine Woods, Zachary Knighton and Peyton List. Cho's name should sound familiar as he portrayed young Sulu in J.J. Abrams' new Star Trek movie.
Mysterious Flash Forward promos began airing during Lost almost two weeks ago so the pick up comes with little surprise attached. With its sci-fi elements, Flash Forward could air before or after Lost and eventually take Lost's Wednesday slot after that series wraps its sixth and final season in 2010.