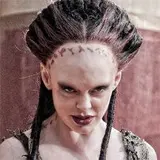 Lionsgate issued a new batch of images from Conan The Barbarian this evening, none of which feature star Jason Momoa as adult Conan.
Instead, these images offer a nice collage of the supporting characters that Conan will align himself with and fight against. Up first is Ron Perlman as Corin, a man who helps shape who Conan becomes. That man, a legend in the making, will be up against Khalar Zym, played by Avatar's Stephen Lang.
On the opposite end of the testosterone spectrum is Marique, a devilish looking adversary for Conan played by Rose McGowan. Sporting less witchy makeup is Rachel Nichols making the jump from Scarlett in G.I. Joe: The Rise of Cobra to the lovely Tamara.
Finally there's a shot of young Conan who, as we saw in the vicious red band clip, is not someone whose path should be crossed. Those that do will find themselves short a head and lots of blood.
Conan The Barbarian reboots the franchise that helped make Arnold Schwarzenegger a star on August 19.