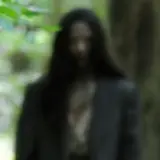 AMC officially began production on The Walking Dead: Season 4 this past Monday (May 6) in the Atlanta, Georgia area. Since the show is set in a world overrun by zombies, it's only fitting that our first official look at the upcoming season including a lurking doing what they do best: lurking.
The photo released today features a grizzled Rick Grimes (Andrew Lincoln) looking intently and something – or someone – out in the Georgia woods. There's no signs of anyone from his prison camp around. There is that lurker zombie wearing an unusually stylish outfit, just hanging out in the background. Rick could seem to care less.
AMC is producing 16 all-new episodes of The Walking Dead for Season 4. The first will premiere sometime this October.
Season 3 of The Walking Dead can be pre-ordered in standard or limited edition sets at Amazon.com. It should arrive in stores this August or September.