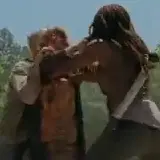 AMC has released the first clip from The Walking Dead Season 4 that illustrates why it's a good idea to have someone standing guard when opening the gates to the prison-home.
In the clip, Michonne rides back to the prison on her trusty steed Blaze and Carl uses ropes to open the large metal gates to let them in. Even after Michonne gets through the gates, Carl continues to crank them open wider and a couple of hungry walkers waltz in wanting a piece of Michonne.
Carl looks horrified as Michonne hops off her horse and then pushes back against the walkers rather than even attempt to get her sword out. Maybe it was the way the scene was directed or edited, but it looks like she could have easily whipped out her sword before even getting off the horse. This whole time the gates remain open, until suddenly a couple frames later when they are completely shut again.
While Michonne wrestles with walkers, Maggie emerges from the watch tower – presumably the one not blown up in the Season 3 finale – where she was likely getting funky with Glenn instead of sniping any walkers that came through the gate. That's a guess, any way.
The Walking Dead Season 4 premieres Sunday, October 13 at 9/8c on AMC. Catch up if you're behind as The Walking Dead Season 3 was released on Blu-ray and DVD today.