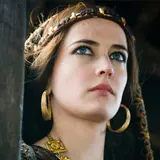 Starz has released the first trailer for Camelot, the new original series coming on the heels of Spartacus: Blood and Sand and hoping to reap the same kind of success.
You'll have to jump over to Entertainment Weekly to watch the trailer as they are offering it as an exclusive without an option to embed. What can be gleaned from the trailer is that Eva Green as Morgan is going to be a handful for the most male cast both inside and outside the bedroom. She'll likely steal the show. Jamie Campbell Bower as King Arthur is featured in the majority of scenes. If you watch closely toward the end of the trailer you'll spot Excalibur rising from the water and floating beneath it.
Camelot also stars Tamsin Egerton as Guinevere and a bald Joseph Fiennes as Merlin. Its 10-episode first season run will commence April 1 (not a joke) exclusively on Starz, and we'll have a preview of what to expect before the big premiere.