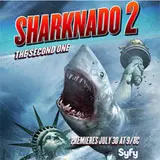 New York City is on the cusp of facing a new type of disaster when Syfy drops Sharknado 2: The Second One onto the unsuspecting city, forcing Ian Ziering to wield a chainsaw and strike his best Bruce Campbell as Ash pose.
Not even Citi Field appears to be safe in the first Sharknado 2: The Second One trailer. Though more of a tease at roughly 20-seconds in length than a proper trailer, there's still enough schlock in these brief moments, including multiple airborne sharks, to remind us how insanely absurd the first film was and how crazy it could and should be if sharks rain down upon Times Square.
Get ready for Sharknado stars Ian Ziering and Tara Reid to be joined by Vivica A. Fox, Mark McGrath, Kari Wuhrer and others to take on the worst nature and cable television has to offer.
Sharknado 2: The Second One premieres Wednesday, July 30 at 9/8c on the Syfy channel.