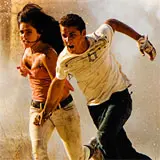 Michael Bay had promised at his official website that the first official "on set" images from Transformers: Revenge of the Fallen would be released around New Year's. Those images have now arrived courtesy of USA Today and Empire Online, 7 of them to be exact.
The images depict a rendering for Optimus Prime as he'll be seen at some point in the sequel, complete with some heavy battle damage, the Egyption pyramids and on-location shooting in New Mexico doubling as Egypt, and a mysterious technologically advanced bunker soldiers infiltrate. Is this room man-made, Transformers-made or both?
Both on-set report articles offer up new information for Revenge of the Fallen as well as confirmation of several rumors floating around the Internet over the past few months. The key bits of information are outlined below including news a certain gestalt robot will make an appearance.
Transformers 2 is the first film to be granted access by the Egyptian government to shoot on-location at the Pyramids at Giza, including "on" the actual pyramids
Shia LaBeouf's hand injury is confirmed to be in the film
Agent Simmons is back and will be in the thick of the action
Jetfire is a "villain whose age and broken-down physicality leads him to help the Autobots"
The gestalt Decepticon Devastor will be in the film, "whose arms and legs are built out of other Transformers"
Lt. Col. Gregory Bishop, the film's Army liason, states: "As far as I know, this is the biggest joint military operation movie ever made, in terms of Army, Air Force, Navy and Marines. I can't think of one that's bigger."
For one climatic sequence set in Egypt, the following military vehicles are used: "two A-10 Thunderbolt II "Warthog" tank-killing jets; six F-16 Fighting Falcons; 10 armored Humvees; the Army's Golden Knights parachute team; two Abrams tanks; two Bradley tanks; two missile-launcher vehicles; two armored personnel carriers"
Starscream will return as an F-22 Raptor jet and is involved in the Egyptian battle
Empire's full article will be included in the February edition of their magazine, due to hit newstands any time. More information will likely come to light when that hits.