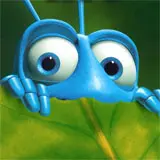 I've had my eyes wide open for this news in anticipation of an obvious cross-promotion with Pixar's "Up" floating into theaters on May 29.
Disney Home Entertainment has made good on a promise from earlier this year by scheduling Pixar's Monster's Inc. and A Bug's Life for release on Blu-ray Disc in 2009. May 19 for both films, to be exact, or 10 days before Up's theatrical release.
What's a Blu-ray and theatrical cross-promotion these days without some movie bucks? There will be an exclusive Up movie ticket offer packaged into each title but we don't have the exact amount or type of certificate to share at this time.
What we do have are tech specs, new bonus features and cover art. Monster's Inc. and A Bug's Life will each be presented in their original aspect ratios (2.35:1 for Bugs, 1.85:1 for Monster's) in 1080p video with 5.1 DTS-HD Master Audio packaged with an embossed foil O-sleeve. Both releases will also share a digital copy, BD-Live access, ported DVD bonus features and an all-new bonus feature: Filmmakers' Roundtable.
Monster's Inc. will be presented on two discs while A Bug's Life will only require one. The difference will be reflected in the suggested retail price: $39.99 for A Bug's Life and $40.99 for Monster's Inc.
Each release will include an additional new and exclusive bonus feature: an Original Story Treatment for A Bug's Life and Monster's Inc Ride and Go Seek: Building Monstropolis in Tokyo for Monster's Inc.
We've included a "sneak peek" look at the not-yet-finalized (but likely final) cover art for each title below. High-res artwork, a complete list of bonus features and Amazon pre-order information should be available just around the corner so stay tuned.