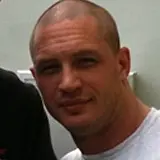 Christopher Nolan is not expected to roll cameras on The Dark Knight Rises until early June, but that doesn't mean there's activity in and around the sets.
Earlier today, Twitter user Ash Harper tweeted an image supposedly snapped from The Dark Knight Rises set. While there is nothing tangible in the image to prove it is, in fact, The Dark Knight Rises set, the person Ash is standing next to needs no introduction.
Our last image of villain Bane comes from 1997's Batman & Robin in which Bane was a silly, stupid lumbering brute. We've all been wondering how Christopher Nolan would handle Tom Hardy as Bane in The Dark Knight Rises since he was cast a few months ago.
In Ash's image is Tom Hardy with a cleanly shaven head and much more ripped than he appeared in Nolan's Inception last summer. This doesn't tell us that Bane will or won't wear his signature black and white mask, but it does tell us that Nolan wants his verison of Bane to be buff and Hardy has taken him up on the challenge.
Just think; we could be seeing a first look at characters like Bane and Catwoman in full costume in less than two months from the Pittsburgh shoot.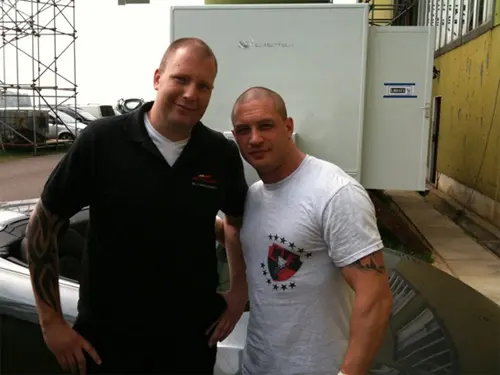 Source: MTV