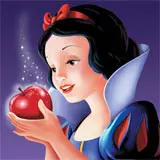 Heigh ho, heigh ho, it's off to work we go. This time our work brings you a first look at Disney's big Platinum Edition Blu-ray Disc this fall.
This cover for Snow White and the Seven Dwarfs, viewable by clicking through the disc details below, is likely identical to what you'll find on store shelves later this year.
Disney has yet to formally release the final cover art with full disc specs so naturally what you see is subject to change. It does fit in nicely with the Sleeping Beauty and Pinocchio Platinum Edition Blu-rays, doesn't it?
Current rumors point towards an October 6 release date for Snow White on Blu-ray. More Snow White on Blu-ray information will be passed along as it is released.
Check out our regularly updated Blu-ray Disc Cover Art Gallery for all the latest Blu-ray covers.