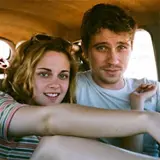 Kristen Stewart is featured in two of the first three official images made public for On The Road as published by French website Commeau au Cinema earlier today.
The film is based on Brazilian director Walter Salles' adaptation of Jack Kerouac's road trip autobiography. Stewart plays Miss Marylou, the wife of Kerouac's friend Dean Moriarty (a fictional name Neal Cassady) played by Tron Legacy's Garrett Hedlund who accompanies him on spontaneous road trips across America. The film also stars Sam Riley in the title role of Sal Paradise (Kerouac's fictional name).
A release date for On The Road has yet to be set but it is expected in theaters prior to the release of The Twilight Saga: Breaking Dawn Part 1. Stewart is currently shooting that film with her Twilight pals including Robert Pattinson and Taylor Lautner.