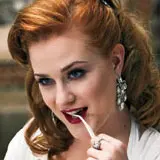 Evan Rachel Wood has filmed her August 30 debut on True Blood and the first images of her in character have hit the web.
Wood will play the Vampire Queen of Louisiana, Sophie-Anne, who is called upon by Bill (Stephen Moyer) for advice in a desperate situation. Her role will grow and expand as the show heads into its third season.
"She's very powerful, capricious and most likely insane," offers series creator Alan Ball. "(She) has more than one secret agenda which we will slowly become aware of over season 3." Feel free to let your imagination run wild pondering what her agendas may be.
Source: TV Guide and The Ausiello Files