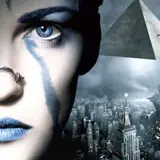 Online retailer DVDEmpire.com has added listings for a pair of First Look Entertainment bargain Blu-ray titles.
The zombie classic Day of the Dead and sci-fi fantasy film Immortal will both be available on December 2 with identical SRPs of $24.98.
Immortal comes from comic artist Enki Bilal and is based on his "Nikopol Trilogy" of DC comics.
The official synopsis for Day of the Dead is as follows: Nick Cannon Mena Suvari and Ving Rhames star in this horror film based on the George A. Romero classic zombie film. A mysterious virus has infected the small town of Leadville Colorado and the military is brought in to enforce a quarantine and stop the spread of the disease. As people perish survivors realize that the virus is creating the walking dead who crave human flesh. Only a small number of people are immune to the virus and those few survivors must battle to fend off the infected zombies while trying to make it out of town alive.
We don't have any disc information for either title due to the early nature of these listings. Updates including specs and cover art will be passed along as received.
In the meantime, we've added Immortal and Day of the Dead to our Blu-ray Future Releases section and young a nice compilation video made from Immortal footage that illustrates the film's unique style below.
Discuss Immortal and Day of the Dead coming to Blu-ray in the HDR Forums.