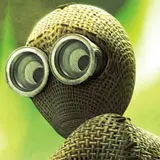 A little present landed in my Inbox this evening and there is no way I am not going to share.
Below is the all-new theatrical poster for Shane Acker's 9, the first of several cool first's from the film I'll be passing along leading up to the September 9 release date.
What's not to like about this poster? "9" looks stunning set against the backdrop of a city in ruins. At the same time, his glowing staff offers a "glimmer" of hope for the future of… sack kind.
A Facebook campaign for 9 is already underway with the film's Scientist talks about the machine that will help rebuild a shattered nation.
Click the 9 poster to view a crisp high resolution version.