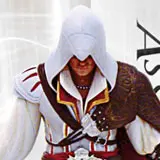 Ubisoft has unveiled the Assassin's Creed II Limited Edition: Master Assassin's Edition game set for Playstation 3 and Xbox 360.
Included in the set for either console are two exclusive in-game maps: Palazzo Medici and the pre-order unlockable map Santa Maria Dei Frari; The Art of Assassin's Creed II hard-covered art book; Behind the scenes of Assassin's Creed II (and other on-disc bonus features); Assassin's Creed II soundtrack; Premium Collectable Tin; and an Ezio collectable statue standing 8.5 inches tall.
The large set will be available exclusively at GameStop while supplies last with a price of $79.99. Click here to secure a set via pre-order, or click either of the PS3 or Xbox 360 beauty shots below to enlarge into a high resolution image.