Danai Gurira is ready to whoop ass in the first The Walking Dead: Season 3 that features her character, Michonne, brandishing a katana sword and mean glare.
The character of Michonne, a fan-favorite from Robert Kirkman's The Walking Dead comics that the AMC series is based upon, first debuted in the Season 2 finale. Danai had not been cast as of yet, so the character's identity was hidden by her cloak. Anyone who had read the comics knew who she was from the katana sword and two zombies on a leash. Michonne is the first character to appear on the series that has learned to live and prosper amongst the zombie infestation.
The Walking Dead: Season 2 finale also revealed a key location for Season 3, a prison. Rick and his group will try to turn the prison into a fortress where they can live in relative peace while the zombies lurk around beyond the walls.
Production on The Walking Dead: Season 3 is already well underway. The first episode will premiere this October.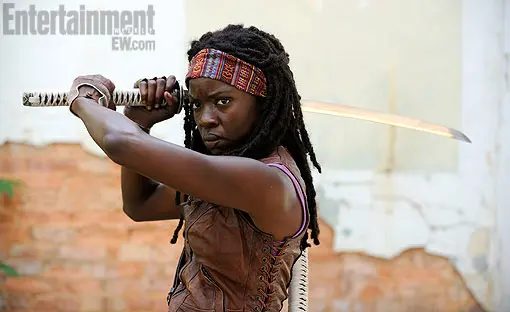 Source: EW