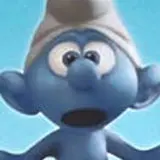 The first image of a CGI Smurf from Columbia Pictures' upcoming The Smurfs 3D movie has made its way online courtesy of a print ad scanned by PVC Blue.
The Smurf looks exact like how you might imagine a 3D rendering of the little blue guys to look. In fact, it doesn't appear as if Sony's Animation team has tinkered with the iconic design at all.
The Smurfs movie will integrate the diminutive Smurfs into a live-action setting and arrive in theaters on December 17, 2010 under the direction of Raja Gosnell.