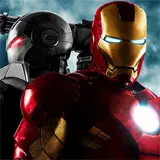 The first theatrical teaser one-sheet movie poster for Iron Man 2 debuted this evening at Yahoo! Movies and I am already convinced it will find a place on my wall.
The poster reveals the first "clear" official image of War Machine aka Col. James 'Rhodey' Rhodes (Don Cheadle). Up until now the only glimpse of War Machine came from fuzzy illegal photos and videos snapped at the Iron Man 2 presentation this past summer's San Diego Comic-Con.
The arrival of this poster means the first Iron Man 2 teaser trailer is likely just around the corner. Current speculation suggests it will debut in front of James Cameron's Avatar on December 18.
John Favreau returns behind the camera for the Iron Man sequel along with the first film's stars Robert Downey Jr. and Gwyneth Paltrow. Newcomers include Sam Rockwell as Justin Hammer, Mickey Rourke as Whiplash, and Scarlett Johansson as Black Widow.
Iron Man 2 takes off in theaters on Ma7 7, 2010.