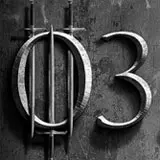 HBO has released the first poster for Game of Thrones: Season 3 with imagery as boring as your mind could have conjured up. It's not the poster's artwork that gets me excited. It's what this poster signifies is just around the corner.
Last year HBO debuted the first Game of Thrones: Season 3 trailer after a late September episode of Boardwalk Empire. That teaser didn't show us any footage, but it did provide an indication of where the season was headed by delivering a single line, "The night is dark and full of terrors."
I remember it well, and it began several months of anticipation that built to a fevered pitch leading into the Season 2 premiere.
We already know Game of Thrones: Season 3 premieres on March 31, 2013, and the poster reminds us of that. It also tells us a teaser trailer is inevitable and just around the corner. I, for one, cannot wait.