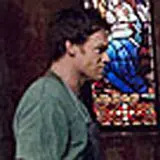 Showtime has released the first still from Dexter: Season 7, a prelude to what should be the first trailer with footage coming in the next few weeks.
When we last left Dexter (Michael C. Hall) and his sister Deb (Jennifer Carpenter), she had just witnessed him offing the villain-of-the-season Travis in his twisted, ritualistic way. Deb let out a painful sigh as the knife sunk into Travis, while Dexter turned to see her and say "Oh God."
The first official image from Dexter: Season 7 picks up right where Season 6 left off. Dexter is seen staring at Deb while in his kill outfit, while Deb has drawn her gun and has it aimed right at her brother's chest. It's the moment of discovery fans have been waiting for since the series first premiered.
Dexter will likely talk himself out of this precarious situation. Travis did, after all, threaten to harm Dexter's kid. He can also explain to Deb that the kill was a one-time event to make sure Travis never came after Harrison again, and Deb would likely be able to relate.
At the same time, Dexter's kill set-up will likely send Deb back on the hunt about her brother's past and set in motion a series of events that will either lead to them living happily ever after, or Dexter having to pay for what he's done to countless people.
Dexter: Season 7 premieres Sunday, September 30 on Showtime.