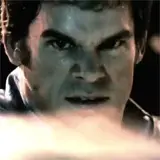 Showtime has released the first teaser spot for 'Dexter' Season 6 a few weeks prior to when production is scheduled to begin.
The spot cycles through the main adversaries Dexter has come up against over the years, a natural choice given there's no new footage to share from the new season yet. It then ends with a tag line "This Fall, Hell Breaks Loose," a little hint of what's to come.
Watch the 'Dexter' Season 6 promo spot below, then check out the first tidbits about 'Dexter' Season 6 which went public within the past couple weeks.