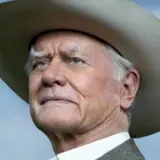 Last night TNT offered up the first preview of Dallas during the season premiere episodes of Rizzoli & Isles and The Closer complete with a trio of original stars and the original theme song.
The promo spots together run a minute in length and bring back the feuding Ewings along with their now adult children. Original cast members Larry Hagman, Patrick Duffy and Linda Gray join newcomers John Ross, Jesse Metcalfe, Julie Gonzalo and Jordana Brewster. As expected there's bad blood, lust, and a lot of money at stake.
The Dallas pilot was written by Cynthia Cidre who also serves as the executive producer on the show. TNT picked up Dallas for a 10-episode season on Friday which will debut during the summer of 2012. The completed pilot could, in theory, appear before then if TNT finds reason to begin building up buzz early.
You can check out photos of the Dallas at the show's official website.