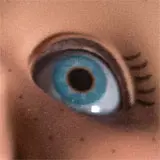 This fall the sixth! misadventure of the most notorious serial killing doll goes direct to Blu-ray and DVD as Curse of Chucky makes it debut.
The exact release date for Curse of Chucky is still not known, but earlier today Universal released the first two rather innocent looking stills from the film. In the first, a child opens up a shipping box to find many packing peanuts and a relatively "mint" Chucky doll inside. The second still features a young girl, Alice, giving Chucky a big old hug. If only she knew.
Here's the official synopsis for Curse of Chucky that serves as a reminder that this is not a reboot, but a tie-in to the original Child's Play from 1988.
"Nica (Fiona Dourif) is grieving over the gruesome suicide of her mother when her domineering older sister Barb (Danielle Bisutti) arrives with her young family in tow to help settle their mother's affairs. As the sisters butt heads over Nica's plans for the future, Barb's young daughter comforts herself with a grinning, red-haired talking doll named Chucky (Brad Dourif) that recently arrived mysteriously in the mail. But as a string of brutal murders begins to terrorize the household, Nica suspects the doll may hold the key to the bloodshed. What she doesn't know is that Chucky has a personal score to settle. He's determined to finish a job he started more than 20 years earlier, and this time he's going to see it through to the bloody and shocking end."