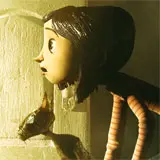 From director Henry Selick, the man behind the camera for A Nightmare Before Christmas, comes the next 3-D Blu-ray adventure this summer.
Universal Studios Home Entertainment has revealed the first details for the July 21 release of Coraline on Blu-ray. As it was offered theatrically in 3-D, the Blu-ray version will offer 2-D and 3-D viewing options along with four pairs of 3-D glasses with every two-disc set.
Coraline stands from the best Blu-ray has to offer with a 1.85:1 1080p digital transfer, 5.1 DTS-HD Master Audio and D-BOX Motion Code included on the disc.
Bonus features are heavy on Blu-ray exclusives with strong support for U-Control and BD-Live. The complete list is as follows:
Four pairs of 3-D Glasses
2-D and 3-D versions
U Control – Picture in Picture (2-D Feature Only)
U Control – Tours and Voice Sessions (2-D Feature Only)
U Control – Picture in Picture Animatic (2-D Feature Only)
Deleted Scenes
The Making of Coraline
Voicing the Characters
Creepy Coraline
BD Live – My Scenes Sharing
BD Live – The World According to Henry
Digital Copy of Coraline 2-D Version (Expires 07/31/2010)
Feature Commentary with Director Henry Selick and Composer Bruno Coulais
Coraline on Blu-ray has a retail price of $39.98 which should bring Amazon pricing in just under $30. Look for that pre-order link and high resolution cover art in the near future.