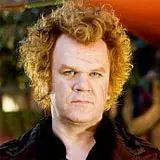 Cirque du Freak: The Vampire's Assistant with John C. Reilly and Ken Watanabe failed to lure in moviegoers during its fall theatrical run in amassing a paltry $16.6 worldwide box office total.
The film based on the popular book series will look for a new, broader audience when it unspools onto Blu-ray Disc and DVD on February 23 from Universal Studios Home Entertainment.
While I do not have the full details to share about this release, I can confirm the single-disc Blu-ray will be presented in 2.35:1 1080p video and 5.1 DTS-HD Master Audio.
Bonus features will include at a minimum (i.e. there might be more) deleted scenes, a Guide to Becoming a Vampire, and Tour du Freak.
Universal has set the Cirque du Freak: The Vampire's Assistant Blu-ray SRP at $36.98 with Amazon.com pricing expected to come in around $25.