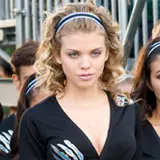 Sony Pictures Home Entertainment is planning to release the cheerleader infiltration comedy Fired Up! on June 9.
Nicolas D'Agosto and Eric Christian Olsen star as a couple football jocks who join the cheerleading team. Sarah Roemer leads the cheerleaders and, of course, becomes romantically involved with one of the jocks.
Sony is including a new unrated cut as well as the original PG-13 theatrical cut. The complete list of bonus features is as follows.
Commentary with Director Will Gluck, Nicholas D'Agosto and Eric Christian Olsen
This is Not a Cheerleading Movie: The Making of Fired Up!
Double Duty
Gag Reel – Uncensored Version
Fired Up! Press Junket – Hour 12
Click here to pre-order Fired Up! on Blu-ray for $27.99 at Amazon.com.