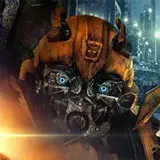 Yahoo! Movies has debuted the final theatrical one-sheet movie poster for Michael Bay's Transformers: Revenge of the Fallen.
The poster design is… predictable. Optimus Prime and Bumblebee, the two most recognizable Transformers in Bay's universe, hog up most of the real estate. Playing smaller roles are an Egyptian Pyramid and the Decepticon chase in Shanghai.
I'd love to offer up some of these Transformers posters for giveaway to you all much the same way we're currently giving away the one-sheet movie poster for J.J. Abrams' Star Trek. Keep your eyes peeled should something come together.