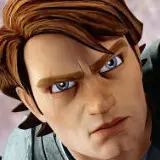 Shortly after Disney purchased Lucasfilm late last year, it was announced that fifth and then current season of the animated television series Star Wars: The Clone Wars would be the last. A new animated series was in the works and The Clone Wars showrunner Dave Filoni was involved. At the same time, production on Season 6 of The Clone Wars was closer to complete than incomplete, casting doubt on whether those episodes would ever see the light of day.
Today, the same day that Lucasfilm will pull back the veil of secrecy a little more on Star Wars: Rebels at New York Comic-Con, Dave Filoni took to his Facebook page and confirmed that not only has production on the final 22 episodes of The Clone Wars been completed, but we will get to see them early next year. How and where we don't know, but at least we know they are coming.
Here is Filoni's message in its entirety:
"Star Wars fans – I have some exciting news! We have wrapped production on all of the remaining Star Wars: The Clone Wars episodes, and while that might be sad news in one way, it's good news in another. It means you will finally get to see them. When, exactly, is a detail I cannot yet share. I can confirm that in early 2014 you will be watching the final episodes of The Clone Wars, including one of Master Yoda's most challenging missions. So, get ready. We've got Clone Wars and Rebels coming at you in 2014. Animated Star Wars is alive and well. Trust in the Force my friends.
– Dave"
The hope is that the final episodes of The Clone Wars will directly transition into Revenge the Sith. We'll find out in just a few short months.
After virtually a hiatus in 2013, the Star Wars brand kicks back to life in 2014 with The Clone Wars in the first part of the year, Star Wars: Rebels in the fall, and then J.J. Abrams' Star Wars Episode VII in 2015.
Source: Facebook