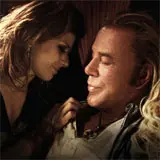 The final disc spesc are in for a pair of big Fox movies coming to a Blu-ray Disc player near you on April 21.
First up is Darren Aronofsky's The Wrestler starring Mickey Rourke and Marisa Tomei. It will be presented in 2.35:1 1080p video and 5.1 DTS-HD Master Audio. Bonus features include the Blu-ray exclusive Wrestler Round Table as well as a Within the Ring featurette and The Wrestler Music Video – Written and Performed by Bruce Springsteen.
The "B.I.G." biography Notorious will be presented in its original 2.55:1 aspect ration at 1080p resolution with 5.1 DTS-HD Master Audio. The theatrical and a new unrated cut will be included via seamless branching as well as a digital copy on a second disc.
Other bonus features including a pair of Blu-ray exclusives are as follows.
BD-Live Feature – The Music: get even closer with the music of B.I.G. with this interactive trivia track and tag and track your favorite songs throughout the movie (BD exclusive)
BonusVIEW – Life After Death: Making Notorious (BD exclusive)
Unrated Director's Cut and theatrical versions of the film
Commentary with Director George Tillman, Jr., Co-Screenwriter Reggie Rock Bythewood, Co-Screenwriter Cheo Hodari Coker and Editor Dirk Westervelt
Commentary with Producer/Biggie's Mom Voletta Wallace, Producer/Biggie's Co-Manager Wayne Barrow and Producer/Biggie's Co-Manager Mark Pitts
Behind the Scenes: Making of Notorious Featurette
I Got a Story to Tell: The Lyrics of Biggie Smalls
NOTORIOUS Thugs: Casting the Film
Biggie Boot Camp
Anatomy of a B.I.G. Performance
Party & Bulls**t (never-before-seen footage of the real B.I.G.)
The B.I.G. Three-Sixty

The Petersen
Directing the Last Moments
It Happened Right Here
The Petersen Exit
The Shooting
The Impala
The Unfortunate Violent Act
The Window

Deleted Scenes
Assassin assembles his gun
Taking care of business
Big on his own
Finding inspiration
The assassin watches
In the hotel pool
East Coast in the house
After the accident
The assassin backs up
Extended Concert: Primo Street Rap
Digital Copy
Click here to pre-order The Wrestler on Blu-ray for $27.99 from Amazon.com.
Click here to pre-order Notorious on Blu-ray for $27.99 from Amazon.com.