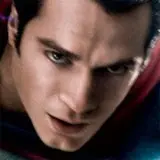 The final theatrical one-sheet movie for Warner Bros. and Zack Synder's Man of Steel is a far cry from what you, I, or just about anyone else might have guessed.
That's not to say the poster featuring Henry Cavill zooming over Metropolis is bad, per se. It's different and unexpected, opting to utilize two-thirds of the canvas for a blurred city skyline.
The final Man of Steel poster is also quite fitting. Superman is seen flying at incredible speeds throughout the various trailers and TV spots, so it does make sense to play up his flight in the marketing materials.
Man of Steel stars Henry Cavill, Amy Adams, Michael Shannon, Russell Crowe, Diane Lane, Kevin Costner, Christopher Meloni, and Laurence Fishburne. The first big post-Christopher Nolan Dark Knight DC Comics live-action film takes flight in theaters on June 14.
Source: Yahoo