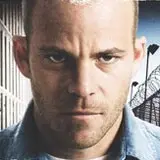 Sony Pictures Home Entertainment has announced Felon starring Val Kilmer, Stephen Dorff, Harold Perrineau, Jr.and Sam Shepard is coming to Blu-ray Disc on August 12, day-and-date with DVD.
Felon surrounds the hardships of a husband, played by Dorff, who kills a home intruder and is sentenced to hard time in prison.
Sony will present Felon in widescreen 1.85:1 1080p video and 5.1 Dolby TrueHD audio.
Announced supplemental features at this time consist of a lone The Shark Tank: An Inside Look at Felon featurette. We'll pass along any additional extras if/when announced.
Felon on Blu-ray will carry an SRP of $38.96. Check back regularly for high resolution cover art.
Pre-order Felon on Blu-ray for $26.95 from Amazon.com.