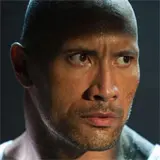 Before Dwayne "The Rock" Johnson goes chasing after Vin Diesel in this summer's Fast Five, he went on a vengeful warpath tracking down the scum who murdered his brother in CBS Films' Faster. That is if he can keep Billy Bob Thorton and Oliver Jackson-Cohen off his tail.
Faster made just under $25 million at the worldwide box office when it debuted in late November. If you missed it theatrically, you'll get a chance to check out Faster before Fast Five arrives when Sony releases it on Blu-ray and DVD on March 1.
The Blu-ray version of Faster will be presented in 2.4:1 1080p video and 5.1 DTS-HD Master Audio. Bonus features are as follows:
Alternate Ending with Director's Introduction
Deleted Scenes with Director's Introductions
BD Exclusive: Weapons and Wheels: The Guns, Cars and Stunts of Faster Featurette
BD Exclusive: Criminal and Cops: The Cast of Faster Featurette
BD Exclusive: Animatics
Pre-order Faster on Blu-ray for $24.49 or less at Amazon.com.