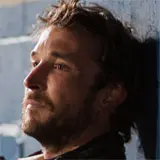 The Steven Spielberg executive produced TNT series Falling Skies will touch down on Blu-ray and DVD for the first time on June 5.
Falling Skies stars Noah Wyle as a father, former history professor and co-leader of resistance fighters struggling to stay alive on the outskirts of Boston in the aftermath of a catastrophic alien invasion. The series, which first premiered in June 2011, co-stars Drew Roy, Moon Bloodgood, Will Patton and Sarah Carter.
Warner Home Video will release Falling Skies: Season 1 on Blu-ray in a three-disc set. Exclusive to Blu-ray is 'Falling Skies from Pencils to Print: The Comic Book Revealed' and a collectible trading card. The remaining bonus features are highlight by a Falling Skies: Season 2 sneak peek as well as the following:
Animating a Skitter
Comic-Con 2011 Panel
Pilot Commentary
Behind the Scenes featurettes
Character Profiles
UltraViolet copies for all 10 episodes
Click here to pre-order Falling Skies: Season 1 on Blu-ray for $34.99 at Amazon.com, 30% off the $49.99 list price.
Falling Skies: Season 2 will premiere in late June on TNT. Watch a short Falling Skies: Season 2 behind-the-scenes video.